Available driver types
The block-oriented simulation system BORIS enables the linkage to real processes via different kinds of hardware drivers. It has to be seperated between two types of hardware:
PC-internal cards which have direct access to the PC-bus. These cards are especially recommended for time critical problems.
External hardware modules which communicate with the PC via e. g. the serial RS232- or the parallel interface or USB or Ethernet. This group includes also SPS and bus driven modules.
Automation systems
Other drivers…
Please consider that all technical data listed below are based upon specifications given by the concerning distributors and are without liability. The list is updated permanently; so if your type of hardware is not yet included, just call us!
The prices for the drivers depend on the hardware as well as on the number of users. Drivers for modules marked by

can be downloaded free of charge from the download area. Please refer to our price lists for current prices of all products!
Drivers for PC-internal cards / USB modules
On request we program drivers for other cards / modules!
Drivers for external modules
We offer ready-to-use drivers for the following hardware modules:
Drivers for modules marked by

can be downloaded free of charge from either the German or the English download area.
Drivers for automation systems and PLC
Driver for CAN-Bus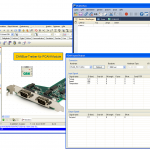 For the CAN-Bus which is especially popular in the automotive industry a BORIS driver is available, at first for the large range of PC-CAN interfaces from the PEAK-System company in Darmstadt. The driver enables the comfortable signal configuration and the reading and writing of any signals. Our video (German) demonstrates the use of the driver in conjunction with the PCAN-MicroMod Evaluation Kit from PEAK-System.
Drivers for CONRAD digital multimeters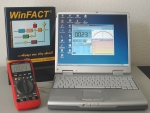 For the digital multimeters MS 9160, 3850 M, 3860 M, 4660 M, GDM 704/705, ME-22, ME-32, ME-42, VC 635, VC 655, VC 350, 4660 A, VC 820 and VC 840 of the company CONRAD-Elektronik low priced BORIS-drivers are available which allow measurement data acquisition, visualization and processing without any programming. Up to four multimeters (depending on the number of COM-ports of the PC) can be operated simultaneously. Details of the multimeters you find on the website of CONRAD-Elektronik.
Videos