Scope of performance

The PID Design Center for the block-oriented simulation system BORIS increases considerably the available possibilities for the design of PID controllers. It represents the extensive development of the approved T-sum design module and allows the manual or automatical design of continuous or time discrete PID controllers by a large variety of plant approximations and design methods like
design rules by Chien, Hrones and Reswick
design rules by Oppelt
design by rules of thumb
design rules by Rosenberg
design rules by Ziegler/Nichols
design by the oscillation method of Ziegler/Nichols
design by the T-Sum rule
design by the gain optimum method
design rules by Takahashi
For the analysis of the plant and the design of the controller it is sufficient to feed the PID Design Center system block with the input and output variable of the plant. Both variables can be normalized to a freely selectable operating point and limited to a time window if necessary. The used design rule is graphically displayed for control purposes.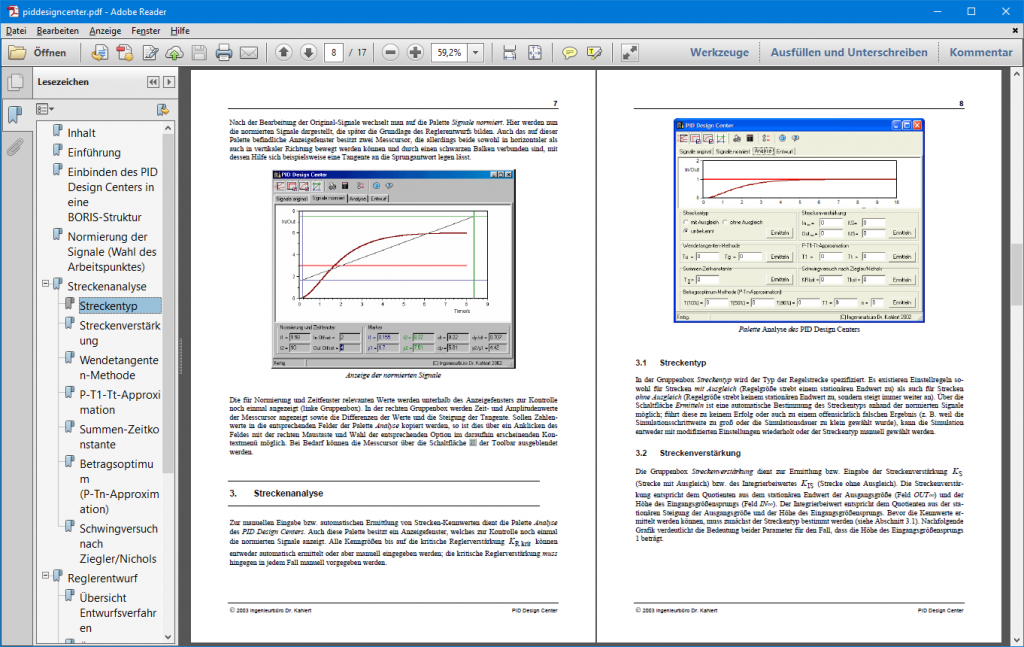 Some further features of the module:
optional control input for the triggering of the data recording
Parallele Anzeige von Original- und normierten Daten
parallel display of original and normalized data
measuring cursor in all views (e. g. for the manual drawing and measuring of the tangent or of the permanent oscillation)
free choice of the viewed time window
free choice of the sampling time at the design of time discrete controllers
printing and saving of results
direct transfer of the PID parameters to the BORIS-PID-blocks via the clipboard (WinFACT 6)
comprehensive online help and online documentation
suitable for all WinFACT versions (WinFACT 98 and higher)
The following screenshots are intended to give you a first impression of the features of the module. You find a demo version (German) at our download area.
Since WinFACT 2016 the PID Design Center is included in all WinFACT license types
Documentations and product information