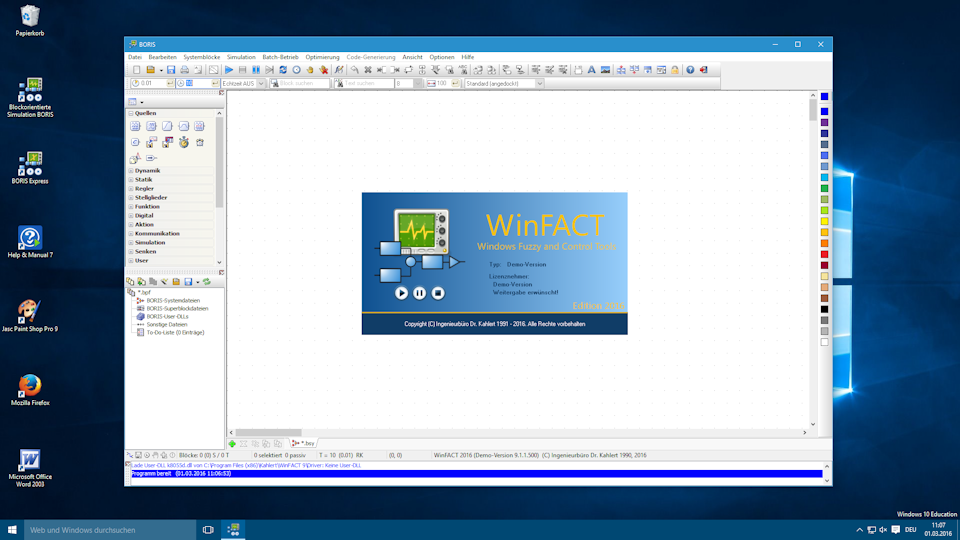 Some of the most important news of WinFACT 2016 compared to WinFACT 8 (also as video):
Nomenclature equivalent to DIN IEC 60050-351

All denotations of control engineering parameters and symbols now are equivalent to the current norm DIN IEC 60050-351. In some cases (e. g. PID-controller) additionally the old denotations are specified.

WinFACT Update Center (Image)

The new update center helps you to keep you WinFACT installation up-to-date.

BODE Trainer includes PI-, PD-T1-, PID-, PID-T1-controller
Express Version (Image)
Deleting of blocks and connections by the <DEL>-key
Ripping out of blocks from connections
Temporary highlighting of connections (Image)
Integrated plants with visualization (Temperature, Fill level, Speed, Position, Light) (Image)
Improved characteristic curve plotter (manual/input-controlled adding of points, freezing of previous curve)
Controllable simulation delay
Extended start dialog (Image)
Fast connect dialog for non-graphical drawing of connections (Image)
Operation mode depending block bitmaps (e. g. for comparator)
Separate outputs for P-, I- and D-part in PID-block
Extended system block: Integrator with alignment and stop
Adjustable block caption colour (Image)
Different grid types for worksheet
Redrawing of connections by context menu
Direct access to block output window via options toolbar
Slider and rotation knob controllable by cursor keys
New system block: Characteristic map plotter (Image)
Tolerance band for Multi-plotter (Image)
Direct determination of the frequency response of superblocks
Improved measurement mode for Bode-plotter
Restoring of block output window by pressing <Shift>- resp. <Ctrl>-key and double-click on block
Unit delay-block now has the default setting Sample time = Simulation step size (helpful for resolving algebraic loops)
New zoomable virtual instruments (Image)
Integrated add-ons (Details in Video (German))

Some add-ons liable to pay costs so far now are integrated in BORIS:

PID Design Center for the design of PID-controllers based on a set of different design methods
System Identification Center for the identification of linear plants using miscellaneous techniques
VB Script Modul for programming own system blocks based on the VB Script programming language which is part of Windows

Packer for SIM-Files

If SIM-files resulting from simulations with a small step size are saved, these typically contain a very large number of pairs of values. Using these files for creating corresponding WMF-files with the graphic module INGO results in large files. This packer tool simply reduces the file size by an assignable factor copying only each n-th pair of values from the original file to the target file.
As usual users of older versions can purchase favorably priced updates of the new versions.