Scope of performance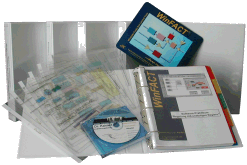 Instead of an expensive equipping of laboratories with plant models, function generators, oscilloscopes and measuring instruments we offer our so-called Automatic Control Software Courses. They can be used as a supplement or alternative to conventional experiments within courses and although no hardware is needed they are of great clearness. The software courses are based on the WinFACT education editions and are mainly intended for colleges and universities for applied science. Each course deals with one topic and consists of the following components:
instructions for experiments (ring binder): introduction to the theoretical background as well as worksheets with detailed tasks and solutions (sample pages in PDF-format, German).
a set of high-quality acetate sheets for overhead-projection, which show a summary of the main points of the experiments (sample slides in PDF-format, German).
numerous WinFACT sample files containing tasks and their solutions. All sample files contain extensive control and visualization functions especially for the presentation of plants and controllers. The student almost 'forgets' that he isn't sitting "in a real lab" but "only" simulating with a PC (especially advantegeous regarding operational safety and energy consumption). The following plant models, among other things, are used within the courses (see also WinFACT plant models below on this page):

temperature plants
motor-generator-set
inverted pendulum
loading crane
stirring tank
liquid level plant (one tank system)
three tank system
mixed water plant
spindle Drive
light plant
aircraft attitude control
stirring tank cascade
synchronous motion control
At the moment the following courses (German) are available:
* Requirement for using the automatic control software courses is the existence of the corresponding WinFACT licence (type A, B or C) which comprehends the needed WinFACT components.
Automatic Control Software Courses
This collection includes numerous different plant models for the block oriented simulation system BORIS. Each model consists of the functional block (mathematical plant model as a BORIS superblock) or several alternative functional blocks and the corresponding visualization block (User-DLL-Block) block, which visualizes the dynamic behaviour of the single plant variables graphically. Thus, these courses and plant models are especially suitable in the field of education and training and also as a basis for own process visualizations. All plant models optionally come with source listings and resource files (Pascal/Delphi format), so that own extensions can easily be programmed. A written documentation, of course, is delivered with each package. The following screenshots shows the available plant models (BORIS blocks).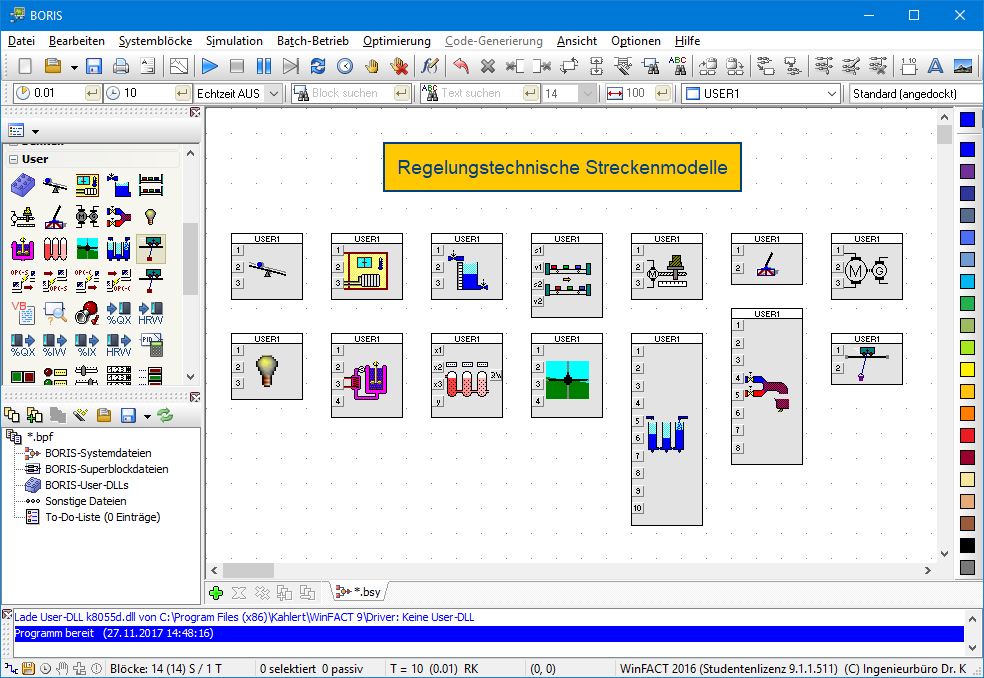 The following table shows the available plant models (German). To start the original animations just click the corresponding graphic preview.
Dokumentationen und Produktinformationen
Prices
Please refer to our
price lists
for current prices of all products!