Scope of performance
Our Automatic Control Compact Model Playground is an "all-in-one" compact model which provides six different plants and thus allows the user to carry out many experiments. Like in a real experimental environment the experiments can easily be configured by setting jumpers.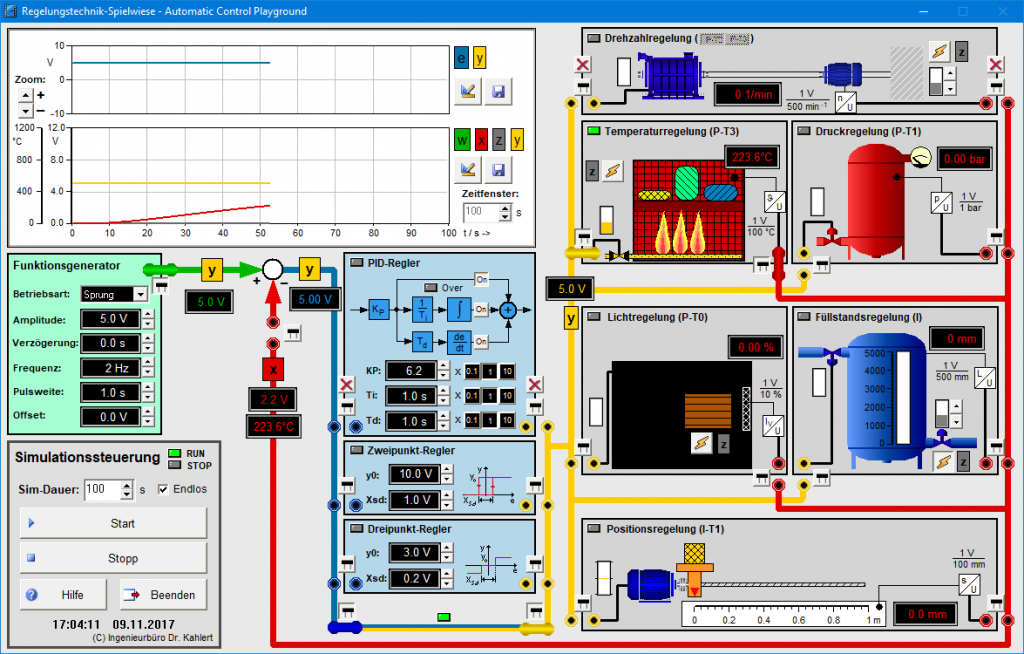 The Automatic Control Compact Model Playground offers the following features:
6 plants with and without compensation:

Speed (can alternatively be used as P-T2 – or P-T3 – plant)
Temperature (P-T3 – plant)
Pressure (P-T1 – plant)
Light (P-T0 – plant)
Filling level (I-plant)
Position (I-T1 – plant)

Available controller types:

Freely configurable PID controller
Two-position-controller with/without hysteresis
Three-position-controller

General-purpose signal generator for generating various testing signals (step, pulse, ramp, sinus)
Activating disturbances
Scalable display of all momentary values and time responses with the possibility of grafic analysis (e. g. for inflectional tangent methods) and the saving of curves for later processing.
Alternatively standard or endless simulation
Selectable German/English user interface
Comprehensive online help
Our introductory video illustrates the handling.
Thus the Automatic Control Compact Model Playground is suited very well as a supplement or an alternative to our proven automatic control compact models.
Videos
Downloads
Prices
| | | | |
| --- | --- | --- | --- |
| | EUR | EUR | EUR |
| Number of users | 1 | 10 | copy license |
| Automatic control compact model "Playground" | 195,00 | 495,00 | 247,50 |
Please refer to our
price lists
for current prices of all products!