Single models & model packages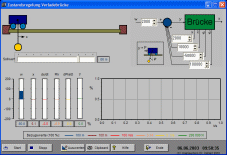 The Automatic Control Compact Models are a well-priced alternative or add-on to our automatic control program system WinFACT. Each model combines all control, visualization and analysis functions within one uniform compact user interface. All models are ready-to-use, i. e. they are ready for use without previous configuration, parameterization or the like. An technology resp. block diagram illustrates the process. All main variables and parameters can easily be adjusted via sliders and their effects can directly be checked during simulation. Bar graphs, numerical displays as well as time response diagrams present the results very clearly. The integrated online help provides background information on the corresponding control loop if necessary.
Each Automatic Control Compact Model consists of two partial models:
the underlying controlled system
the underlying closed loop
The first partial model enables the analysis of the control loop, e. g. for the experimental determination of the system parameters. For that purpose the manipulated variable can be preset via a slider and activated via a button. The second partial model enables the analysis of the closed loop using different controller types and parameters.
Important: All models are stand-alone usable, i. e. no WinFACT license is required!
At present the following compact models are available (the user interfaces are designed with our Flexible Animation Builder):
A lot of further models as well as comprehensive experiment instructions are in preperation and will soon be available. Of course, we also like to build models based on your own ideas!
Downloads
Documentations and product information
Further links
Automatic Control Compact Model "Playground"
Automatic Control Compact Model "Heizungsregelung mit Solar-Brauchwasserunterstützung" (German)
Prices
| | | | |
| --- | --- | --- | --- |
| | EUR | EUR | EUR |
| Number of users | 1 | 10 | copy license |
| Single model | 49,00 | 250,00 | 125,00 |
| Set of all models | 295,00 | 1.250,00 | 625,00 |
Please refer to our
price lists
for current prices of all products!